Page 10 - Admissions Brochure_2020-21
P. 10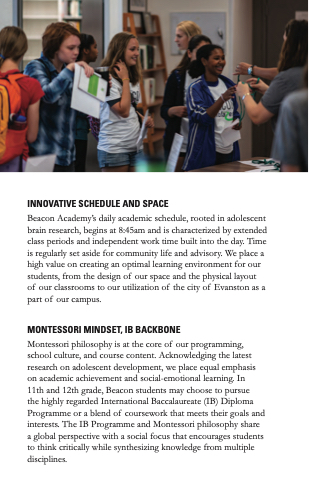 INNOVATIVE SCHEDULE AND SPACE
Beacon Academy's daily academic schedule, rooted in adolescent brain research, begins at 8:45am and is characterized by extended class periods and independent work time built into the day. Time is regularly set aside for community life and advisory. We place a high value on creating an optimal learning environment for our students, from the design of our space and the physical layout
of our classrooms to our utilization of the city of Evanston as a part of our campus.
MONTESSORI MINDSET, IB BACKBONE
Montessori philosophy is at the core of our programming, school culture, and course content. Acknowledging the latest research on adolescent development, we place equal emphasis on academic achievement and social-emotional learning. In
11th and 12th grade, Beacon students may choose to pursue
the highly regarded International Baccalaureate (IB) Diploma Programme or a blend of coursework that meets their goals and interests. The IB Programme and Montessori philosophy share a global perspective with a social focus that encourages students to think critically while synthesizing knowledge from multiple disciplines.