Page 17 - Admissions Brochure_2020-21
P. 17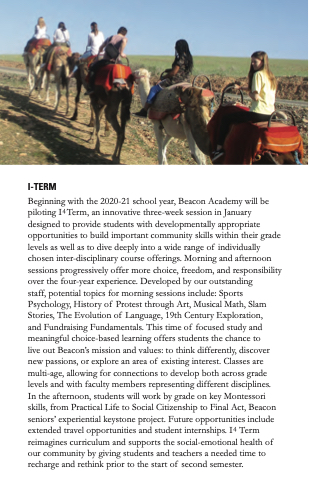 I-TERM
Beginning with the 2020-21 school year, Beacon Academy will be piloting I4 Term, an innovative three-week session in January designed to provide students with developmentally appropriate opportunities to build important community skills within their grade levels as well as to dive deeply into a wide range of individually chosen inter-disciplinary course offerings. Morning and afternoon sessions progressively offer more choice, freedom, and responsibility over the four-year experience. Developed by our outstanding
staff, potential topics for morning sessions include: Sports Psychology, History of Protest through Art, Musical Math, Slam Stories, The Evolution of Language, 19th Century Exploration, and Fundraising Fundamentals. This time of focused study and meaningful choice-based learning offers students the chance to
live out Beacon's mission and values: to think differently, discover new passions, or explore an area of existing interest. Classes are multi-age, allowing for connections to develop both across grade levels and with faculty members representing different disciplines. In the afternoon, students will work by grade on key Montessori skills, from Practical Life to Social Citizenship to Final Act, Beacon seniors' experiential keystone project. Future opportunities include extended travel opportunities and student internships. I4 Term reimagines curriculum and supports the social-emotional health of our community by giving students and teachers a needed time to recharge and rethink prior to the start of second semester.