Page 20 - Admissions Brochure_2020-21
P. 20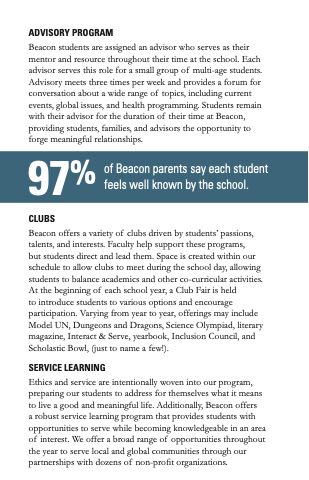 ADVISORY PROGRAM
Beacon students are assigned an advisor who serves as their mentor and resource throughout their time at the school. Each advisor serves this role for a small group of multi-age students. Advisory meets three times per week and provides a forum for conversation about a wide range of topics, including current events, global issues, and health programming. Students remain with their advisor for the duration of their time at Beacon, providing students, families, and advisors the opportunity to forge meaningful relationships.
97% of Beacon parents say each student feels well known by the school.
 CLUBS
Beacon offers a variety of clubs driven by students' passions, talents, and interests. Faculty help support these programs,
but students direct and lead them. Space is created within our schedule to allow clubs to meet during the school day, allowing students to balance academics and other co-curricular activities. At the beginning of each school year, a Club Fair is held
to introduce students to various options and encourage participation. Varying from year to year, offerings may include Model UN, Dungeons and Dragons, Science Olympiad, literary magazine, Interact & Serve, yearbook, Inclusion Council, and Scholastic Bowl, (just to name a few!).
SERVICE LEARNING
Ethics and service are intentionally woven into our program, preparing our students to address for themselves what it means to live a good and meaningful life. Additionally, Beacon offers
a robust service learning program that provides students with opportunities to serve while becoming knowledgeable in an area of interest. We offer a broad range of opportunities throughout the year to serve local and global communities through our partnerships with dozens of non-profit organizations.