Page 22 - Admissions Brochure_2020-21
P. 22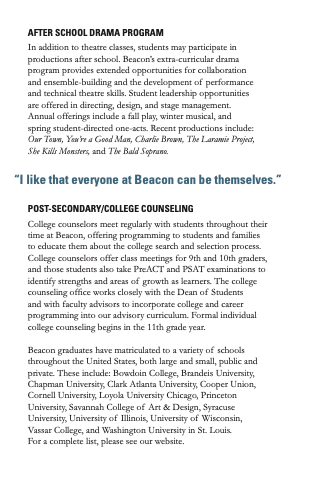 AFTER SCHOOL DRAMA PROGRAM
In addition to theatre classes, students may participate in productions after school. Beacon's extra-curricular drama program provides extended opportunities for collaboration and ensemble-building and the development of performance and technical theatre skills. Student leadership opportunities are offered in directing, design, and stage management. Annual offerings include a fall play, winter musical, and spring student-directed one-acts. Recent productions include: Our Town, You're a Good Man, Charlie Brown, The Laramie Project, She Kills Monsters, and The Bald Soprano.
"I like that everyone at Beacon can be themselves."
POST-SECONDARY/COLLEGE COUNSELING
College counselors meet regularly with students throughout their time at Beacon, offering programming to students and families to educate them about the college search and selection process. College counselors offer class meetings for 9th and 10th graders, and those students also take PreACT and PSAT examinations to identify strengths and areas of growth as learners. The college counseling office works closely with the Dean of Students
and with faculty advisors to incorporate college and career programming into our advisory curriculum. Formal individual college counseling begins in the 11th grade year.
Beacon graduates have matriculated to a variety of schools throughout the United States, both large and small, public and private. These include: Bowdoin College, Brandeis University, Chapman University, Clark Atlanta University, Cooper Union, Cornell University, Loyola University Chicago, Princeton University, Savannah College of Art & Design, Syracuse University, University of Illinois, University of Wisconsin, Vassar College, and Washington University in St. Louis.
For a complete list, please see our website.