Page 21 - Admissions Brochure_2020-21
P. 21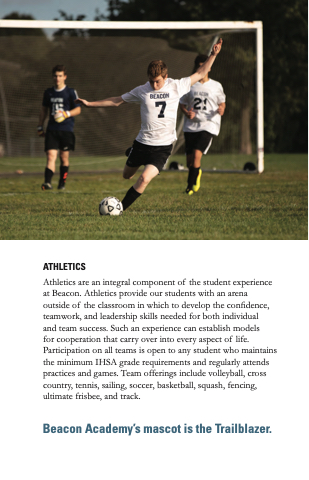 ATHLETICS
Athletics are an integral component of the student experience at Beacon. Athletics provide our students with an arena
outside of the classroom in which to develop the confidence, teamwork, and leadership skills needed for both individual
and team success. Such an experience can establish models
for cooperation that carry over into every aspect of life. Participation on all teams is open to any student who maintains the minimum IHSA grade requirements and regularly attends practices and games. Team offerings include volleyball, cross country, tennis, sailing, soccer, basketball, squash, fencing, ultimate frisbee, and track.
Beacon Academy's mascot is the Trailblazer.